Camp Maria Retreat Center
Providing a beautiful and peaceful getaway from an often hectic and fast-paced world
2023-2024 Fall/Winter Dates Are Still Available!
Contact Our Office At 301-475-8330 or director@campmaria.org To Book Your Retreat!
Ticket Sales For The Camp Maria Raffle Begin On June 21st, 2023. Thank You For The Support.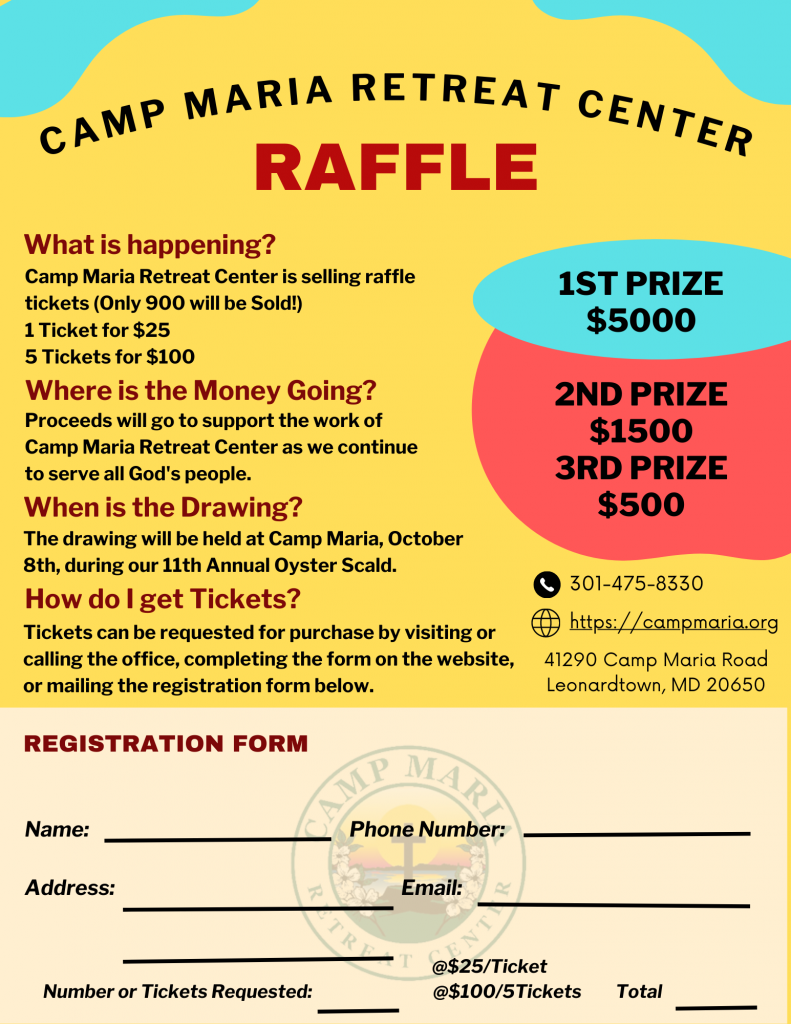 Camp Maria Retreat Center, a ministry of the Sisters of Charity of Nazareth, strives to provide an atmosphere of prayer, hospitality and simplicity in a peaceful, natural environment for retreats and various types of renewal programs.  Our facilities are available to those who seek to strengthen and deepen their commitment to God, the Church, and to God's people throughout the world.
Camp Maria Retreat Center is a 10 acre site situated on Breton Bay in Southern Maryland.  Located outside Leonardtown, MD it is approximately a 1.5 hour drive south of Baltimore, Northern VA, and Washington, DC.
We organize inclusive events for our community to participate.
October 8th, 2023
12PM-5PM, Free
Bring yourself, friends, and family for a fun afternoon featuring live music, oysters (along with many other delicious food items), locally crafted beer and wine, and plenty of activities for kids.
More information will be posted regarding this event as it becomes available.
November 2nd, 2023
9aM-12PM, 3:30pm-5:30pm FREE
Come to Camp Maria Retreat Center and enjoy a meal and learn more about the Sisters of Charity of Nazareth and their global ministries. While the event is free to attend, you will be asked to consider making a gift. There is no obligation to donate.

Many hands make light work and we would not be able to properly execute our mission without the generosity of our volunteers and donors. If you would like to get involved, please contact us or make a donation using the following links
A Few Pictures From Camp Maria retreat Center